How to use DJUCED second master audio output?
mix everywhere with the speakers you have
We have implemented in DJUCED an additional master output to help you to route the master sound to an additional sound-card.
Why? – For example, to use the built-in speakers on your laptop or use a virtual sound card to send your mix to live-streaming software …
Here's 2 ways to use the « Send Master to computer speakers » audio option.
Case #1 : I want to use the speakers of my laptop and pre-listening to the headphones of my controller.
It's easy!


---
1. Open the DJUCED preferences by clicking on the notched wheel at the top right of the interface.

2. Check that your controller is used in main Audio device (here the DJControl Inpulse 200)
3. Choose the sound card from your computer from the drop-down menu of "Send the master signal to the computer speakers"
4. Confirm by clicking on "OK"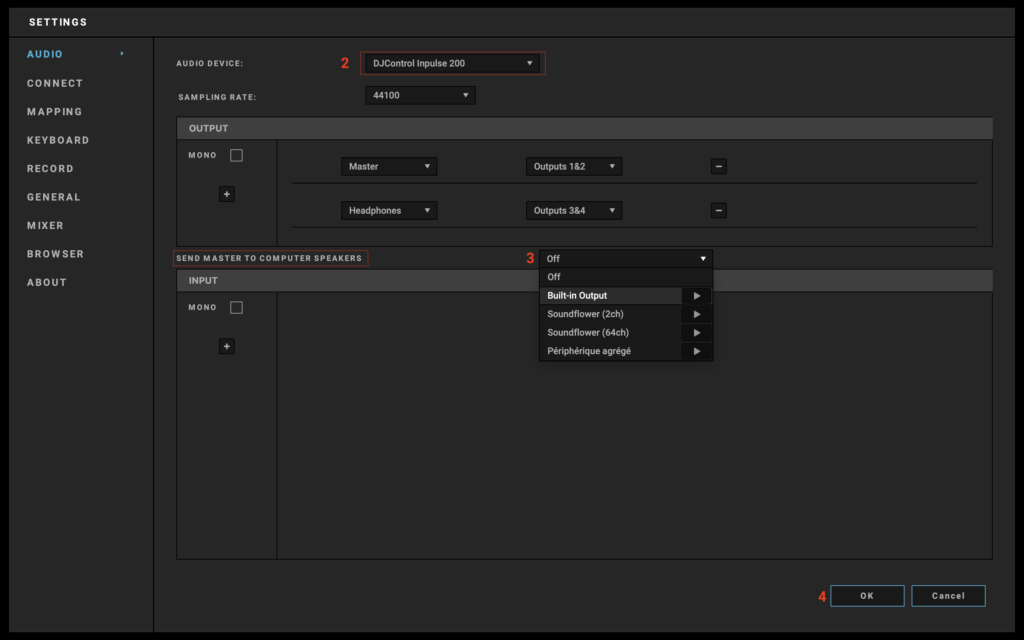 Case #2 : I want to send the main output to a virtual sound card to make a live stream. (with OBS or any streaming software)
In the case of Livestream, you will need to install a virtual sound card on your computer.
We recommend:
Windows – Virtual Audio Cable
macOS – BlackHole
Once your virtual sound card is installed on your computer, simply choose this card from the "Send the master signal to the computer speakers" menu in DJUCED audio preferences.
In your Live-Stream software, just add a new audio source, and select the virtual sound card!


That's it.