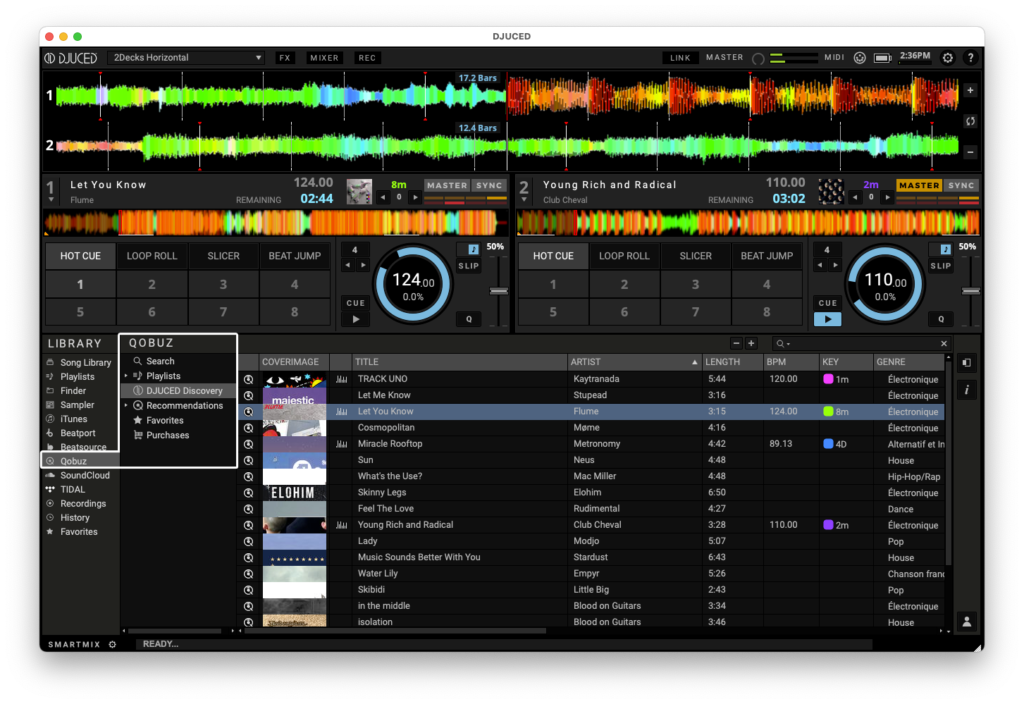 What is Qobuz ? #
Qobuz is a French streaming service known for a large High Resolution and studio-quality catalog.

Is Qobuz free? #
Qobuz is not a free service.

You can find Qobuz subscription offers and try for one month for free by following this link: https://www.qobuz.com/discover

Why DJUCED recording feature is disabled when using Qobuz music? #
When using a streaming service, you don't own the music, you have access to read it.
Our contract with Qobuz includes that DJUCED can't record or stock any music file on the hard drive.
Why accessing/downloading Qobuz music files takes time? #
Qobuz proposes different quality subscriptions.
Anyway, even with the smallest quality called "Premium", Qobuz delivers files equivalent to MP3 320Kbps files.
In that format, 4 minutes of music is a file around 10Mb.
That's why having a good and stable internet connection is required for a good experience.
I can't Login to Qobuz in DJUCED, what should I do? #
Qobuz is an online service that requires an Internet connection to work with DJUCED, and also a Premium Qobuz subscription.
If you still can't access to Qobuz service in DJUCED, please check that:
Qobuz service is online – If it's offline, it will not work either in DJUCED.
DJUCED application is authorized to communicate with the internet – so – that a firewall or an antivirus program doesn't block DJUCED.
Your internet connection is stable and fast.
You can try to reset DJUCED settings by following this guide.